The Perfect Combination
Like many places in the country, sports are a big deal in Louisiana. Whether it is pro or college, we celebrate our teams with fervor. And part of that fervor is the tailgate.
There is nothing in the world like waking up on game day, loading up the truck, and heading down to the stadium where you and 90,000 of your closest friends can cheer on your favorite team.
Food and drink are major parts of tailgating and one of the biggest questions people ask when they are getting ready for tailgating is what to cook? While most people go for the standard burgers and hot dogs, you can really wow your tailgate neighbors with a crawfish boil right in the stadium parking lot!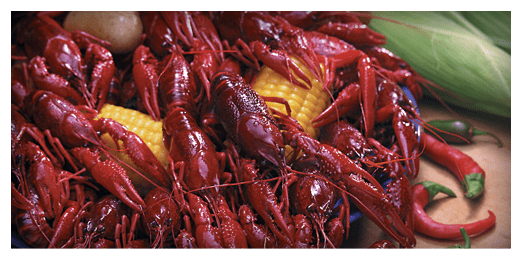 The Smell of Crawfish
If you have ever boiled crawfish before, you understand that the smell can spread far and wide, so you may want to be sure to bring enough to share. People will no doubt make their way to your area with wide eyes and drooling mouths hoping to get a taste of the delicious crustacean.
So make sure you bring enough, the average person can eat 3 pounds of crawfish at a sitting, with bigger eaters taking in 5 pounds or more, a 30-pound sack will feed between 6 and 10 people. Determine how many people you plan to serve and go from there.
Just remember, sharing is caring.
Your Tailgating Needs (During Crawfish Season)
In order to have a crawfish boil at your next tailgating party, you're going to need a few things. Here is a list of the very basics:
A Large Tub or Ice Chest. You can buy a large cooler, but the chest the crawfish were shipped in will work perfectly.
You're Gonna' Need Heat. If you want to have a crawfish boil, you need a good, portable heat source. A cast iron propane cooker like the one we carry is a good option.
A Crawfish Boiling Pot is a Must. Depending on the size of your group, you will need a stainless steel boiling pot with a tight-fitting lid big enough to handle the job.
Something to Stir With. Your average stirring spoon will not work here, friends. You're going to need a good stirring paddle, or a long-handled spoon is your best option.
Don't Forget the Crawfish. I mean, it really wouldn't be a boil without live crawfish.
A Great Crawfish Recipe. Trust us, we know a few. Here's one of our favorites.
Your Tailgating Needs (During the Off-Season)
Depending on the time of year, crawfish may be in short supply – or not available at all - and if that's the case, you can still have a great tailgating crawfish boil using pre-cooked crawfish meat. Either way, with delicious crawfish in your arsenal, you are sure to be the hit of the tailgating circuit this season, especially with the following great recipes!
Potato, Corn and Crawfish Soup – This great twist on corn and crawfish soup will have all your stadium neighbors stopping by for a taste while tailgating.
Crawfish Pie – If you love chicken potpie, crawfish pie will leave you feeling completely fulfilled as you make your way in to watch the game.
Easy Boiled Crawfish - A little butter, garlic, seasoning, and tail meat is all you really need to make yourself the hit of any tailgate party.
No matter what time of year it is, you simply cannot go wrong with crawfish while tailgating, and Cajun Crawfish is happy to be your number one source for all of your tailgate crawfish needs!